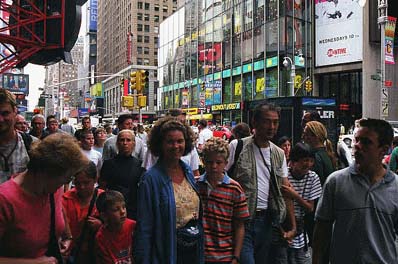 The Ellefsrod in Manhattan! The vacation 2000 took place in Big Apple, Cape Cod, Upstate NY and Berkshires. Please feel free to play "find four Waldos" on this picture taken under lousy light conditions at Time Square.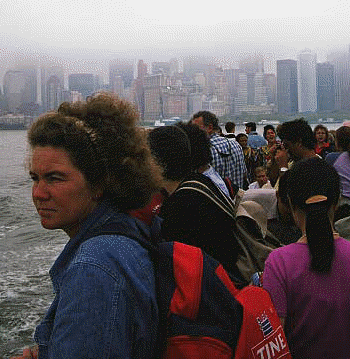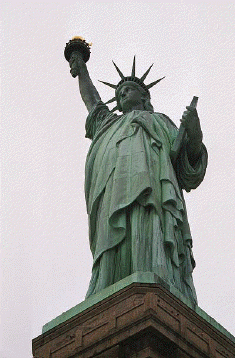 Ferrying towards Ellis Island and Statue of Liberty. Ellis Island used to be where all the immigrants landed before being squirted all around the US. This was before the NY Yellow Cabs took over as the immigrants landing place. All of you knew that Staue of Liberty was a gift from the French Republic and was assembled in NY but built in France . . .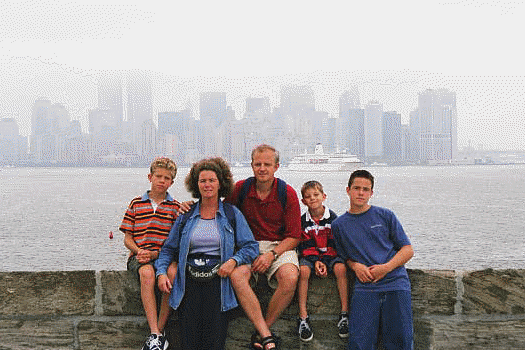 . . . and many thanks to the friendly photographer, residing just in front of the Libress' toe nail . . .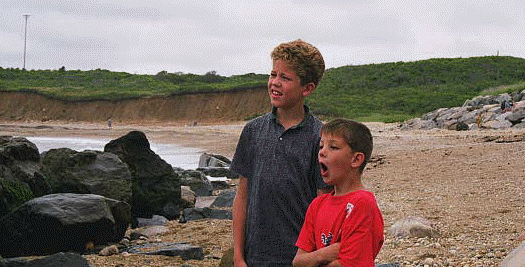 . . . and we had never expected to see Nessie so far from home as here at Nauset Lighthouse, the easternmost point of Long Island! He did not stay for long though . . .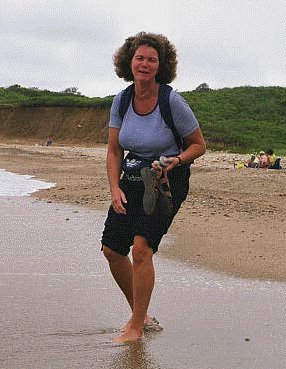 . . after the nothing-whatsoever-fearing Norwegian horde launched the counterattack.

After ferrying from the north fork of Long Island to CT, our next destination was West Dennis, Cape Cod. We stayed for a week at The Twins, Breezy Knoll Cottages,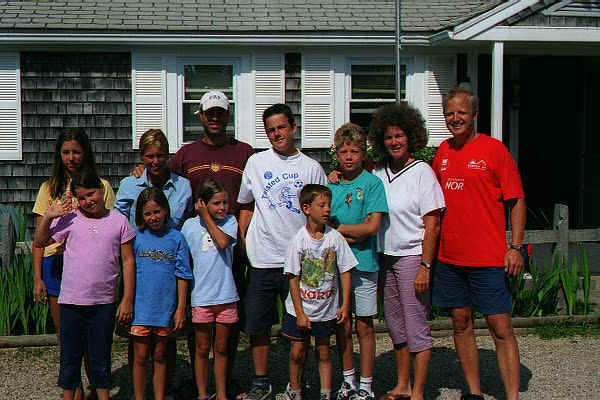 . . where we woke our neighbors from Long Island up every morning by starting the fire alarm! They fell asleep seconds after this picture was taken!
Weather was attempting to please vistors from Scandivia by keeping a shielding cloud cover in fornt of the sun (those U-V's were never healthy un the first hand). And to further please us, it cooled us further by splashing some water at us. Saved us for that annoying drive towards the seaside beaches every day.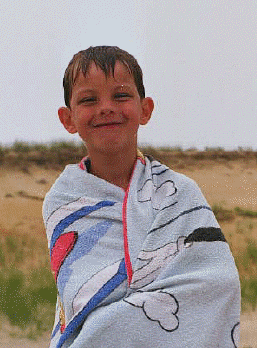 Listen hard, and you may hear Roberts "Brrrrrrrrrr" from underneath his blue lips. Marconi Beach invariably turned Roberts lips blue.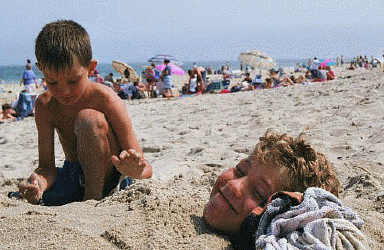 The beach life isn't so bad after all, is it? Here, Robert finds a happy turtle named Martin . .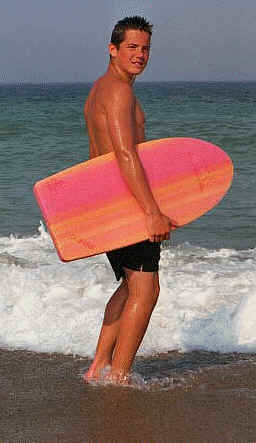 Cool dude heading for the wet and wild

Quite contrary to what we were warned about, it was possible to get out of the Cape on a Saturday. But only by lots of patience. The vehicle headed towards Upstate NY, Schenectady and the Reppens.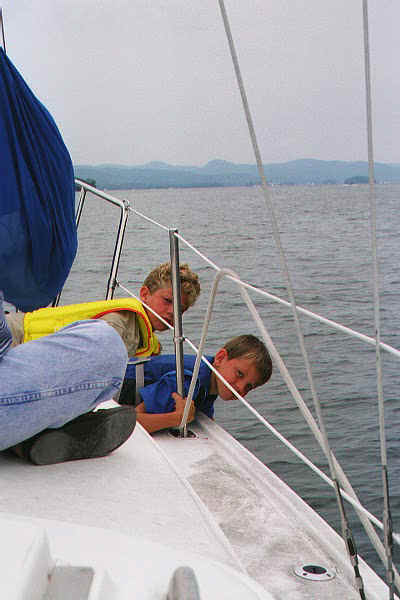 We went out on Lake George with the sailboat . . .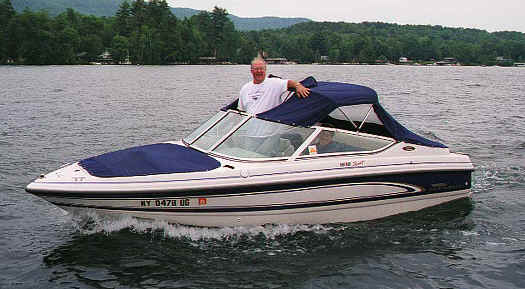 . . . where we met Bjørn and Marty in their new motorboat. Then it started raining.
| | |
| --- | --- |
| | |
| Martin in Saratoga State Park | Robert in front of the rollercoaster at Great Escape |

Finally at Schroon Lake with Dan and Nancy. We brought Jack, Robert's friend form nursery school in 1996 along.
| | |
| --- | --- |
| | |
| Mom is ready for some action. How nice of Deb and Ed to let us borrow the boat! Or did they? If only Dan could look the other way . . . | Seconds before mom located the throttle lever . . . |
Jack and Robert tubin'! (that crash at the rightmost picture is Dad, though!
| | | | |
| --- | --- | --- | --- |
| | | | |
| . . . this way . . | . . . or that way? | . . . ooooh. . Follow that boat! | the tube's bottom! |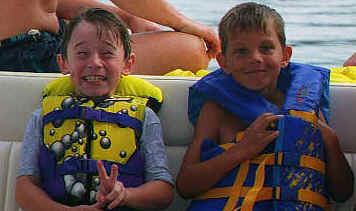 Jack and Robert gets ready for a new ride!
| | | | |
| --- | --- | --- | --- |
| | | | |
| We abandoned the powerboat and went canoing | Jack the fisherman | Even though it was raining at times, we had no time to get bored! | Fortress under construction! |
Wait a few more days for more images - friends we vistied and people we met!


Updated by Terje Ellefsrod 09/10/00