---
| | |
| --- | --- |
| | |
October 7 1948,
at the Paris Salon de l'Automobile
: Flaminio Bertoni presents another magnificent car design, to follow the
Citroën
Traction Avant that he designed before the war. The "experts" laughed at the unconventional car.

This unusual vehicle named 2CV would become one of the foremost icons of modern industrial wrapping. The innovative french carmaker showed the world that design and technology matched the right way would result in a irrestable product that customers could purchase because of love of the design but under the more rational argument that it is "reliable and practical".
High demand caused lead times of up to 7 years from order to delivery.
The "expert car journalists" had obvously missed something . .


Pierre Jules Auguste Vital Boulanger had in 1934 -- following Michelins takover of
Citroën -- acted as the head of the carmaker. He decided immidiately to bring a mass produced inexpensive car to market to propel farmers and other needing people. The project was named TPV but after a brief intermission while Adolf was roaming around, renamed 2CV.

André Lefèbvre was assigned the overall engineering task of the TPV / 2CV

Engine designer Walter Becchia and carburettor specialist Lucien Girard came from Talbot where they designing very successful racing engines. Had it not been for Becchia, the 2CV would have been propelled by a water cooled engine! The hearsay is that WB disassembled his bimmer motorcycle engine in his living room (that is the kinda man I like) days before he designed the 2CV engine.
---
Meetings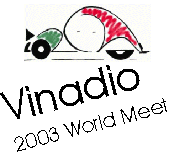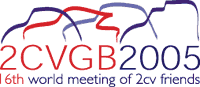 Norsk 2CV Klubb Meeting Arendal 2006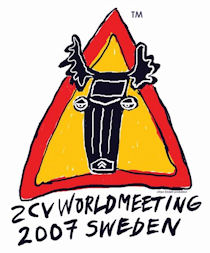 ---
My Tech Tips:
Window frame replacement
Oil Filler / Enginer Breather
Master Brake Pump

---
September 20, 2000 we bought a 1983 red 2CV. Just while we were at it, September 23, we bought another 2CV, this time a '84 white one. We were worried that he ("the red") would get lonely.
The red has been operated near Oslo from 1983 to 1988. And most recently at the islands of Hvaler, south of Oslo from 1988 to 1996. After that time, he has been resting. The chassis does seem like needing a skilled welder for a long period of time. The vehicle works OK, made (like expected) the 80 or so km from Hvaler to Sandefjord elegantly. Odometer 162500km. We stored the red until January 2001, when it found a new owner in Sandefjord. Check out the red duckling in the picture above. .
The white has been operated in Oslo with a brief visit in Trondheim since it left the nest and passed the bi-annual inspection May 2000 at odometer 96000. Nevertheless, the frame cracked in front of the right hand swing arm attachment point only weeks later. Bummer.
| | |
| --- | --- |
| | |
| Chassis failure in front of suspension attachment | Inner rear wing corrosion |
All the interior, including steering wheel, instrument, wire harness, bumpers, wings, vent cover removed.
October 13: Frame has been removed from the body, stripped from front and rear suspension. The frame is an absolute disaster, previously repaired and weakened by removing large portions of the top plate around the body bulkhead area. The frame sagged as the engine/gearbox was removed. . .
Clutch checked. OK. Engine and gearbox exterior cleaned. Valve rocker clearance set. Front engine mounts broken - stress from acting as a chassis member!
Body needed new floor plates and inner and outer bulkhead. Seat belt attachment point rotten.
| | | |
| --- | --- | --- |
| | | |
| Lower bulkhead area rotten | Body undergoing welding. Test fitting of RH floor, New rear seat box underside | Trial fitting of bulkhead repair panels |
| | | |
| . . . . desperatly looking for a chassis . . . | aaaahh . . .feels good baby . . . | . . was it OK for you , too . . .? . |
Thanks to. . .

SLC Chassis provided new chassis, body parts and miscellaneous other parts. Fabulous fit, great service, useful advises and prompt (except for UK flooding problems) delivery. Arrived December 22. While waiting for the chassis, the 2CV got itself a new garage. Just in time for the Norwegian winter.

A few weeks of welding and painting, corrosion proofing and fitting followed. February 6, it was ready for test driving.

Robert and Martin in front of garage


2CV in everyday use
I guess we initially were a little disappointed in the 2CV's ability to keep up with the hostile Norwegian traffic. It turned out that the ignition tuning with a strobelight and dwell meter had not been successful. Static timing changed it to the better.
2CV owners tend to accept "particulrities" that regular vehicle owners finds unreasonable. The fall of 2001 proved rain to be a challange to our vehicle. After several attemts to resolve the issue with silicone sealant to get rid of the cabine leak during wet condition we finally took the decission to replace the window frame. 2CV Experten in Denmark provided the required part. Klick here to check the window frame replacement album.
In November 2002, we installed a 123Ignition system which seems to tweak out every little drop of power and torque that ever lived inside the opposed twin of the 2CV! Great product - try it!
Later we found that there are several other sources of less - than - perfect engine performance. Engine breather, leaky carburettor flange seal, spark plugs, valve clearance . .
---
. . . We used to own a 2CV when we were young(er) . . .
Back in December of 1984 we acquired our first beautiful 1983 red Citroén 2CV 6 Special. Odometer 34185 km

Being a 2CV in Norway during harsh winters presents itself as something entirely different that the sweet life in southern France . . The two rods poking out from the vent flap are machine guns. Terrorists all over the place. .

In order for the little deuxchevaux not to end up in total despair, from June 13 through July 5 1986, we let him take us on a round trip Norway - Sardegna - Corse - Nice - Norway.

This is a picture before departing from Larvik to Fredrikshavn.

Nice night. Bad light. Bad hair.

Well ashore in Denmark, we met a foreign deuxchevaux. We could tell 'cause he was black. He seemed friendly enough but fear of him being not like us - Protestants - made us smile politely but not get into small talks.

Hilde seems happy enough. Not mistaking ourselves, transportation at the moment is dominated by open air, freedom, vacation budget in control (after all, this IS day 1) wide open Autobahn and 602ccm worth of opposed twin humming happily at 5500rpm, 110km/h

Turn your head mylady or you'll end up as taillight souvenir on a big MAN truck!

Desperately missing the snow from back home, the deuxchevaux halted in the mids of a pile of it at St. Gotthard and demanded photos to be taken. Returning towards Norway, July 4.

The only mishap was a lost exhaust pipe in Nice, France
In January 1987, he was sold @ odometer 72500. For the following 14 years we regretted selling him.
Our 2CV Links

Updated by Terje Ellefsrod 29/04/08