Welcome to see some pictures from the 1998 bike trip to Denmark. And the full story.
If, after reading the story, you have comments or questions, don't hesitate to dump a note into our mailbox!

It all started several years ago, while talking about physically exhausting and ruthless ways to spend summer vacations. Denmark came up. It sounds flat. A little too pleasant with several "kroger" (local for bars) scattered around. People being friendly to strangers. That was the downside. After all, we WERE looking for getting our share of suffering which is so important for northerners in order to thrive during the fall and dark winters. We blindly trusted massive headwinds to offer suffering, in a country known for windmills and plastic toys.
There had been made few and very sketchy plans for the trip;
yes, we bring tents, sleeping bags and the Coleman burner, ready for wilderness living (hardly the right term for Denmark) "nature camping" may be a more proper term,

yes, we have round trip tickets with the ferryboat Larvik - Fredrikshavn,

we like to stay off from the west coast as the winds there are said to have turned numerous vivid bike nerds into former vivid bike nerds.
Plans were sketchy, but preparations were not.
We got hold of literature about biking in Denmark from Syklistenes Landsforbund, including Nature Camp Guide well in time to find out about suitable targets.
We had made up our minds to head southbound from Fredrikshavn along coastal bike Rt. 5.
Leg 1 Fredrikshavn - Aasa
June 28 1998, early morning. Get three kids (Robert 6, Martin 9, Fredrik 11) and their mom out of bed and onto the bikes. It's 6:15 when we start from home in Sandefjord, headed for Larvik and the ferryboat to Fredrikshavn and Denmark. And it's raining.
The story will not be only about (challenging) weather, even though we had our share of it. It will be about the experience of taking the family out on a trip that is not very impressive with respect to distance or speed, but rather rich on small events, battles and victories.
The first battle came when we became taken by total surprise by a horrible rain shower after an hours ride. Fredrik had shortly before the downpour started to argue that stopping at a campsite for the night before being absolutely exhausted would be a good idea. The debate kinda started but was in reality settled before that. Mom and dad had sorta thought about 30 km longer before stopping. Not going for a settlement on Day 1, were we? We were not. Fredrik reminded us a little later . . . It took a - actually it took three - pizzas at the local pizzeria in Saeby to get even. And dry.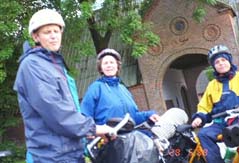 Outside Rugtvedt Farm
Our bicycle bags were not made for submarine expeditions like the Sunday rainstorm turned our trip into. And every little piece of fabric turned out to be wet. Some very wet, some dripping wet. Sleeping bags were carried on the bike exterior and hence were protected by trash bags.
We had read all kinds of travel literature. None said anything about bike bags not being waterproof. We are more stupid than any author had anticipated. Voila. After having sent the campsite gods blessings for making tumblers with coin insert, watching Denmark advance in "Cup le Monde 98" and accepted an invitation to have coffee and "smørrebrød" with some friendly Danes, we had become restored to almost dry status. And we were one experience richer. 1-0 to Fredrik.
Leg 2 Aasa - Dokkedal
This was the beginning of a new morning routine: Waiting for the morning rain to halt, getting a decent breakfast and breaking up the camp made 11.00 early for hitting the road. Just in time for lunch! Which was broken off by a - no need to say, is it? And hail, too. By this time, it became advised that today in deed was Robert's birthday. Did I hear lousy parents? Leg 2 would be short. And it was not the time to push hard for extra kilometers. It was politically correct to follow Fredrik's advise to choose a *** campsite with heated pool. And Robert got to choose dinner. Pancakes.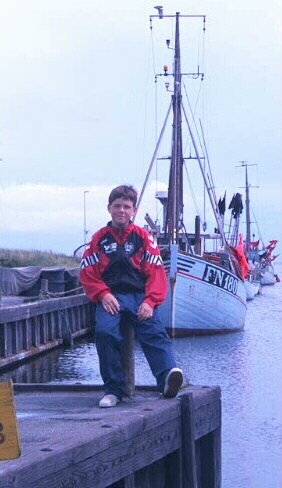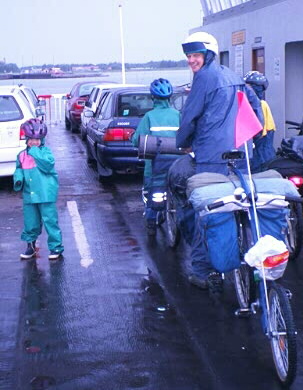 Left: Fredrik at the fishing harbor at Hou. Right: Ferrying across Limfjorden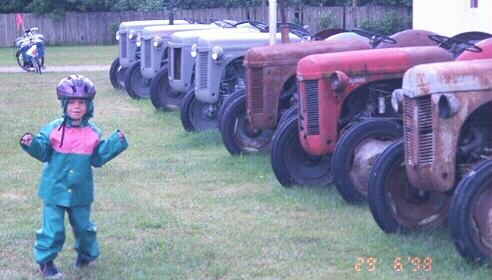 Robert at the tractor museum, Egense
We had to build expectations about the biking bringing something good to life in order to bring daily advances in excess of 50 km. Boys like mechanical conceptions. Like a windmill. The specific mill had been restored. And it was nearly 60 km away. Bless the detailed Danish bike maps. And the tumblers. A great trip through sanctuaries and forests. Martin broke his former speed record in flat terrain - 32 km/h. Open fields, rolling hills. Life is fantastic. Lunch without the threat of rain.
It couldn't last. It all exploded in a horrific downpour and thunderstorm. Mom realized that she was the tallest object for miles when she got serious. Lightning hits tall objects. Fast biking. And the storm disappeared as fast as it started. This time, we were confident that our plastic wrapping had done the trick. The day finished as splendid as it started with the promised visit at the windmill. Mill in mint condition, would easily get awards in any wind mill meeting.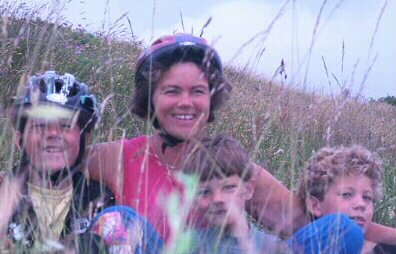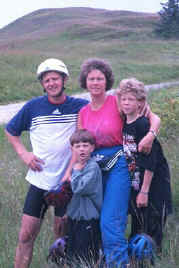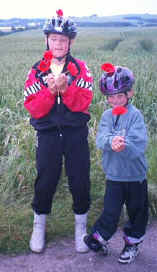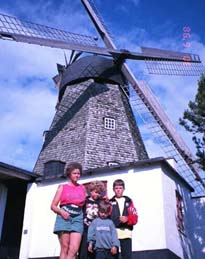 1 st from left:Resting in peaceful surroundings, Mulbjerge Sanctuary. 2nd from left: Mjulberget Sanctuary: We DID ride uphill . .later. . 3rd from left Flowerboys near Kongstedlund Right: The day ended with a visit at Lyshøj Windmill,a beautifully restored mill, fully operational
We finally hit our first wilderness camp, at Udbyneder. Wilderness in Denmark was nested between a tennis court and a soccer stadium. The local kiosk had keys for the bathroom. The guidebook pointed us to a grocery in town. It had been closed down earlier in the year. Business had probably grown slow. The locals feel terribly bad about this and sends one representative over to the "wilderness" with egg. "Breakfast", he explained.
"Nice to be Norwegian in Denmark", we said.
The next day was going to be an easy one. Or so, we thought. Drip drip drip. The tennis club had wisely arranged sheltered tables outside the club house! With Djurs Summer Escape Park within reach motivation was not a problem. But, breakfast WAS light (we ate all we had which basically was 5 eggs) and it was no way about it: Had to do 10 km riding in order to get something to eat. Sun came up, rainy damp turned to warm and pleasant. Uphill riding turned out to suck the energy straight out from beneath us. It took time and when we finally raced downhill to Udbyhoj, the brunch became considerable and long lasting.
The ferry trips last only a few minutes and in splendid weather we continued to Estruplund. Where we met the young family that 30 minutes earlier had become proud owners of a 1983 Citroen 2CV. Like the one we had in 1986! Their young son got a ride on Robert's trailer tandem. We were told where the keys for the church could be found.
Left: Estruplund Church with remarkable chalk paintings Center: Nature Camp north of Nimtofte, Right: Farms holds farmer with hat, kittens, chickens (animals are circled - I said circled . . PLEASE) and tourists (red nosed space people resembling bunnies)
And then the journey continued for a 3 night stay for a 2 day visit at Djurs Sommerland. A farm near Nimtofte served as our base. We shared that location with an assortment of animals, the boys fell particularly in love with the kitten.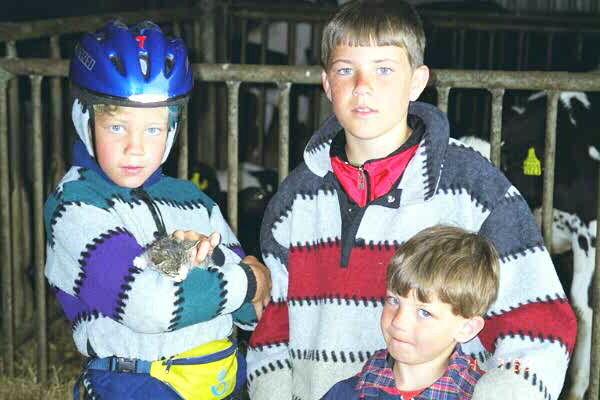 Bottom: Finally, we made it to Djurs Summer Park, the location for fun and pleasure the next two days!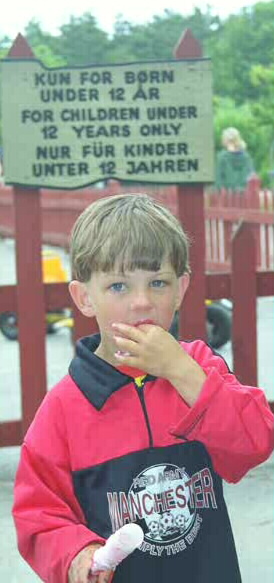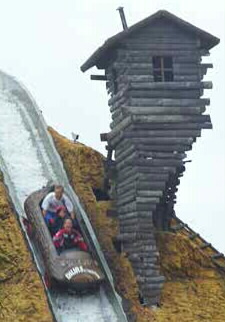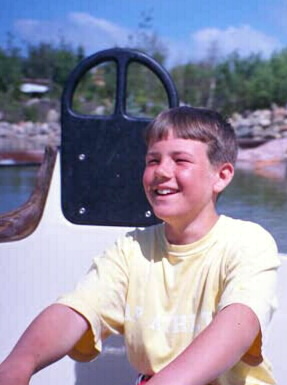 The journey continued southbound to Ebeltoft. Quick stop in Ryomgård for bakeries. Poring rain when we got out again. This was a day for laundry. Which means *** camping just outside Ebeltoft. Ebeltoft revealed itself as a charming town with a great harbor.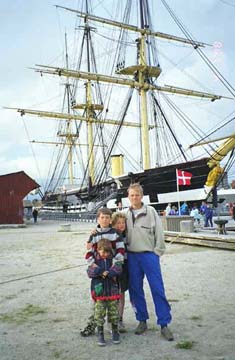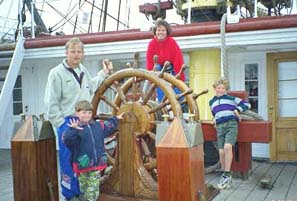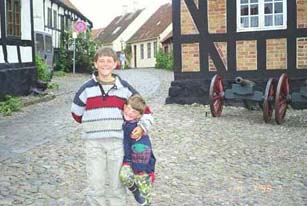 Left: The Frigate Jylland Center: On board the frigate Jylland in Ebeltoft Right: Ebeltoft, Tons of atmosphere
Leg 6 Ebeltoft - Krusborg (Auning)
Time to experience the headwind. Westbound along the coast. Headed in the general direction of The Danish Agricultural Museum and Jutland Manor House Museum, this became a physical experience. Strong headwinds fought with hilly terrain for our attention. And got it. Rumors among the crew of labor actions. Beaten down. Getting late. Headed for another nature camp, with some undefined promises of sheltered sleeping. Weather is turning threatening. A puncture delayed our progress a little. So much for bottle return..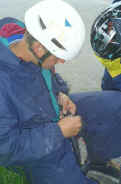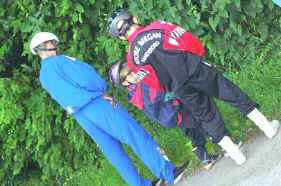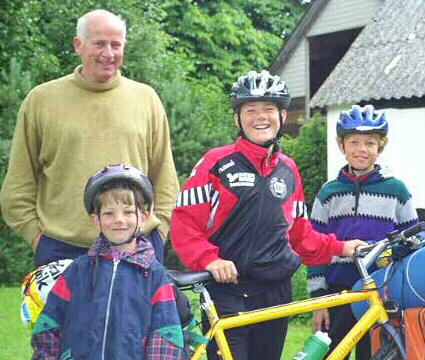 Left: Mending a puncture Center: Nature calls Left: Jens, a hospitable farmer and campsite host, near Auning.
Jens revealed himself as a warm personality with time for his new guests. The burning fireplace in the annex was most appreciated. As was the opportunity for the kids to watch some TV while dinner was prepared. Not to mention the offer for the kids to sleep in front of the fireplace, despite the fact that the sky had turned clear outside.
The following day started with a visit at the museums that were the original destination the former day. The Danish Agricultural Museum and Jutland Manor House Museum. Great experience. The "old fashioned" candy purchased at the museum became a driving force the next couple of days. In addition to to daily ice cream ritual, of course.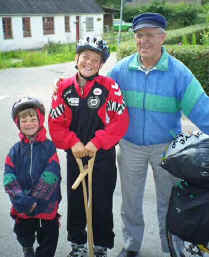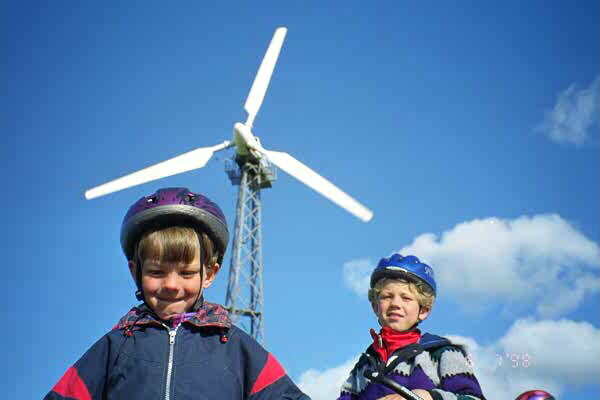 Left: Friendly Dane Inver raced home to show us his peeing aid . . . Right: One of numerous electric wind generators . .
More headwind. Much more headwind. Too much, would some say. But for us, this was the purpose of the trip. Physically exhausting effort without any apparent purpose. The kids pointed this fact out a few times. Or, as Robert neatly formulated himself, riding with me, on his half tandem:
"Wouldn't it have been better to take the car?"
The games played while riding were numerous. The kids tried to teach us grown up's the relations between World Cup team players and various clubs in Europe. The trip was too short for that to succeed. I think Ronaldo plays Real Madrid. Maybe. Songs were being singed. Jokes told. People met, one Dane we met near Voer had relatives in Norway. And he was proud of it. As he was of his special stick.
Mariager turned gradually out to be destination for this leg. Despite the headwind did we make 62 km, much because of strictly managed rests. But, the ice cream did slip in, as all other days. Mariager offered splendid afternoon weather, if one ignored near hale force wind. That's easy in a tent.
Headed north on Old Army Route, "sheltered lunch under rainy sky"
Excellent day for a record long leg. The headwind turns into side wind as we head northbound. The kids are eager to get a day's rest in Aalborg and figures they can make it there. Nice scenery, lots of the trip goes through fields on paths or tractor roads.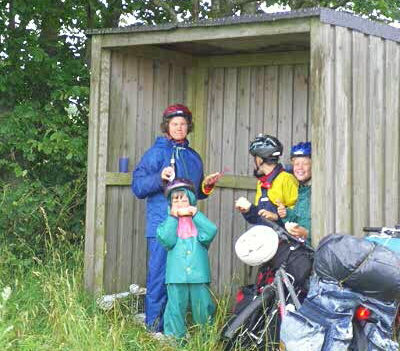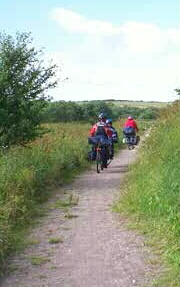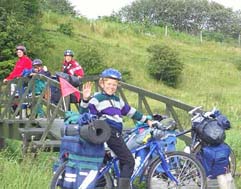 Left: Sheltered lunch along Hærvejen Center: Great riding along narrow roads in the countryside Right: Bridges had to be passed alone the way
One day of rest and sight seeing in Aalborg made us turn around for the last part of the trip. The destination was somewhere near Fredrikshavn. Break down the camp in Aalborg in steady rain. After a while, the weather left us some slack, just suitable for lunch . .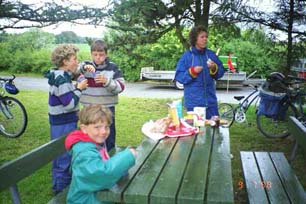 Oops - looks like another rainy lunch . .
Our last and final nature camp near Understed became a haven - much because sudden weather change allowed us to dry the dripping tents! The landlord was absent but we found the well marked campsite after some detective work. We also found a cat and two rabbits.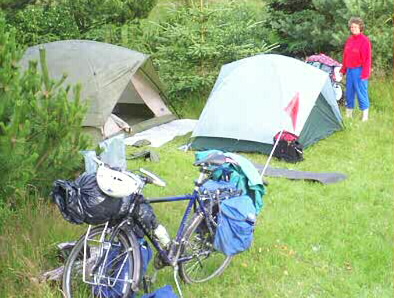 Weather improved when we arrived the nature camp near Understed. Beautiful campsite, pity we never met the hosts! Left DKr 50 for him, though.
Leg 10 Understed - Fredrikshavn
The last day became a marvelous finish of the trip. Headed west, the wind was in our back. Great weather. Nice scenery. Short leg. Time to visit Frerikshavn downtown for a bite to eat before we headed for the ferry . . .
Time to reflect over a nice trip!
The last day offered splendid weather - and breathtaking views . . .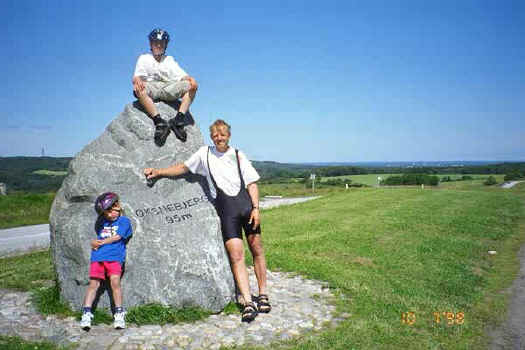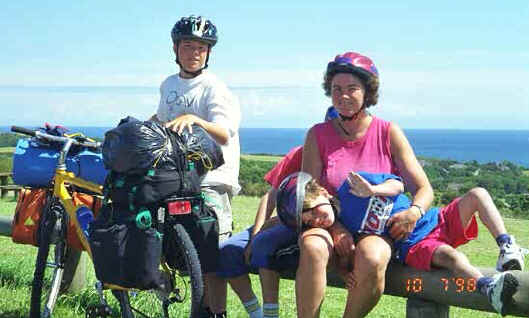 Another shot from 95 m.a.s.l
What did we bring?
We took into account the likelihood of rain, so we brought boots and raingear for all. It was not silly at all. Mom's sandals were not used. We left some spare room for food bought along the way. Some may find the front loading we had as somewhat hefty, but after getting used too, it did not represent a problem.
| | | | |
| --- | --- | --- | --- |
| Tourer | Bike | Bags front | Bags Rear |
| Robert (6) | Tandem behind dad | - | Flag |
| Martin (9) | 13.5" Giant MTB | - | 1 Saddle 12 kg + 1 sleeping bag 2 kg |
| Fredrik (11) | 18" Hard Rocx Lite MTB | 1 small saddle (5 kg w/ room to spare) and 2 cushions 1 kg | 1 saddle (12 kg), 1 sleeping bag 2 kg, soccerball ! |
| Mom | 18" Nishiki Backroads MTB | 2 single bags, 2*6 kg (low riders), 1 cushion | 1 saddle (12 kg), 2 sleeping bags 3 kg |
| Dad | 21" Nishiki Colorado MTB | 2 single bags, 2 * 6 kg (low rider) 1 sleeping bag, felt 4 kg | 2 single bags (2*6 kg) 2 tents, tarps 7 kg |
Mechanical Issues:
Day 5: Used the lock for the first time during the trip. Lost they key. Lesson: Bring spare key. Solution: steel saw from the amusement park crew. Time lost 45 minutes.
Day 6: Fredriks aftermarket lightweight low grade aluminum support stand broke off. Store gave us new in steel when we got home. Rule: Cheap aluminum is not the desired material for a support. Better not worry about the support, even if it doesn't break, the bike tilts after a few seconds. It wasn't missed.
Day 6: Fredrik Puncture. Mended in 20 minutes. Including reinforcing tire. Rule: Who needs an extra inner tube?
Day 6: Dad's chain got hung up in rear chainwheel. No damage. Leatherman Job. Rule: Adjust the gear limit conservatively towards the ends. And who forgot to bring hand cleaner.
Day 6: Mom's chain got hung up in rear chainwheel. Mom had no Leatherman. Too bad. Rule: Adjust the gear more conservatively.
Day 7: Routinely retightened bolts holding luggage racks. 3 racks were loose. Would have caused a major disaster. Rule: Be prepared for disasters.
Day 8: Martin's bag tie down straps broke. Not a big problem, it would have taken a horse to pull that bag off. Learned: Not a thing.
Day 9: Dad's main bag hanger clip fell off. Had to ride holding the bag for 3 km until a gas station could be visited for repair. Comment: "This service we offer Norwegian bikers for free" Learned: Gas Stations have more to offer than only Ice Cream!

Last updated 06/23/02 by Terje Ellefsrod