July 22 2000, LSVK (Larvik og Sandefjord Veteranbil Klubb) sponsored a classic car race starting from Stavern, Vestfold. We decided to bring her out for a spin!
With 157 participants, our start no. 19 separated us in a proper fashion from the common peasants in Mercedes - Benz, Rolls Royce and Packards. We had serious competion in our immidiate surroundings before start.

We felt no threat by the P1800 in front of us - after all, weren't post 1970 Volvo's better known for good brakes and strong safety belts than for agile handling and brisk power?

We loved that blue Consul Convertible behind us, though. And, isn't that neat tiny thing to our leeboard a Goggomobile? And for sure, Citroen Tractions do not come greener than that one in the far rear.

It sure is hard to capture 150+ classic cars in one picture. This only about 30 vehicles. Our Hillman Minx is at the far right top (like you didn't look for it all along). We believe the Minx was the only participating vehicle in the race with the original owner from 1957 as the co-driver!

Obviously, not all participants could afford a Hillman Minx. These are some examples of entry level vehicles.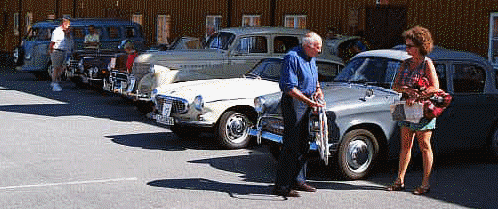 Post race assembly, Co-Driver to the left, Team Manager to the right. Too late during the 45 km drive through Brunlanes, we understood that speed was not of the essence in this race. Those papers we received during the drive had not been intended for immidiate conversion to paper airplanes. The papers apparently contained questions to be answered.
Thanks to LSVK for a putting on this great event!


Updated by Terje Ellefsrod 11/24/03